Panaeolus Cyanescens Big Island Hawaii Spore Syringe
Product Code:

Pan H

Availability:

30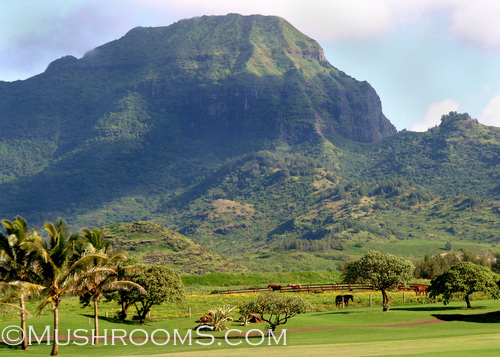 Magic mushrooms grow throughout the Hawaiian islands where there is plenty of rain and grassy cattle and horse pastures. Although only a few psilocybin species of magic mushrooms are native to the Hawaiian islands, such as this strain of Panaeolus Cyanescens from the island of Maui. Panaeolus Cyanescens shrooms are the most common on the islands, but panaeolus cambodginiensis and panaeolus tropicals can also be found on the islands. Pretty much anywhere you can find grass pastures with cows or horses and moisture you have a great chance of finding these beautiful white mushrooms. This species of mushrooms grows directly out of aged dung. They thrive during the rainy seasons but in Hawaii that can be at different places of the island depending on the time of year. What a joy to find to find these magic mushrooms on such a beautiful tropical island. Personally this author feels the vibe from the panaeolus cyanescens is a peaceful "female" type energy that is pure bliss. Panaeolus Cyanescens are a highly active mushroom around 3X the potency of cubensis.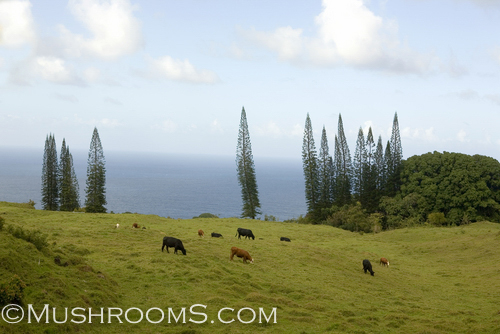 This particular strain of panaeolus cyanescens is from the Big Island of Hawaii and some say these spores are easy to view. You will also see these mushrooms referred to as copelandia cyanescens. Copelandia is a term to refer to the tropical strains of the panaeolus genera.
A fun and educational book on this very subject is some of John Allen's stories after years of hunting these sacred mushrooms in Hawaii. His book Divine Mushrooms & Fungi goes into details about Hawaii's magic mushrooms as well as other psilocybe species. The island of Kauai is also thriving with Panaeolus Cyanescen shrooms with so much rainfall and livestock and it's much easier to photograph shrooms on this island since the ranch pastures are easily accessible.
Related Products