I am excited to introduce our newest cubensis spores, the Arenal Volcano Costa Rica Cubensis. I found these cubensis mushrooms while traveling in Costa Rica during the late spring of 2016 and what an exciting trip that was. Costa Rica is an amazing country with so much beauty and great eco tourism and plenty of mushrooms to forage. My wife and I both agreed that it's our second favorite country and we will go back soon.
The story behind these is a good one. I was there at the end of the 3+ month dry season, the rainy season was right around the corner. Only light rain each day. My friend and I searched many cow fields for psilocybe mushrooms and the ranchers kept telling us we were about 2 to 3 weeks to early, they would be every where in just a few weeks. I refused to give up. I took it to prayer while soaking in the volcanic mineral filled hot springs.
After prayer Father sent me on a journey where I found the first cubensis of the season near the resort property we were staying at. And shortly after I found some heat loving tropical pearl oyster mushrooms too. The first mushrooms of the 2016 cubensis season in Costa Rica and they were beauties. The first or last mushrooms of the season always turn out to be aggressive strains that thrive to survive. Needless to say I collected spores and ate the stems for a great night in the hot springs at the resort and watched monkeys cruise the trees like ballerinas, toucans flaunting their beauty with vibrant colors and cute greetings, green colored fire flies dancing in the night sky, psychedelic colored frogs greeting the jungle night and sounds of the jungle that tickled my senses. It was a true blessing and a reminder of why I do what I do chasing mushrooms around the world. Since our Creator sent me on the journey to find these right after prayer, His divine hand and blessing is on these spores. He wants others to embrace their sacred gift!
So why the Arenal Volcano name? Because less then a mile away is the Arenal Volcano and I could see it from the pasture where I picked these mushrooms.
I will be going into greater detail in my blog soon of where and how to find cubensis mushrooms in Costa Rica. It's a wonderful strain of cubensis and I'm sure you will enjoy it. It was a true blessing and a memory in life I will never forget and I'm glad I could bring another great strain of cubensis mushroom spores to the mushroom community.
Pura Vida Costa Rica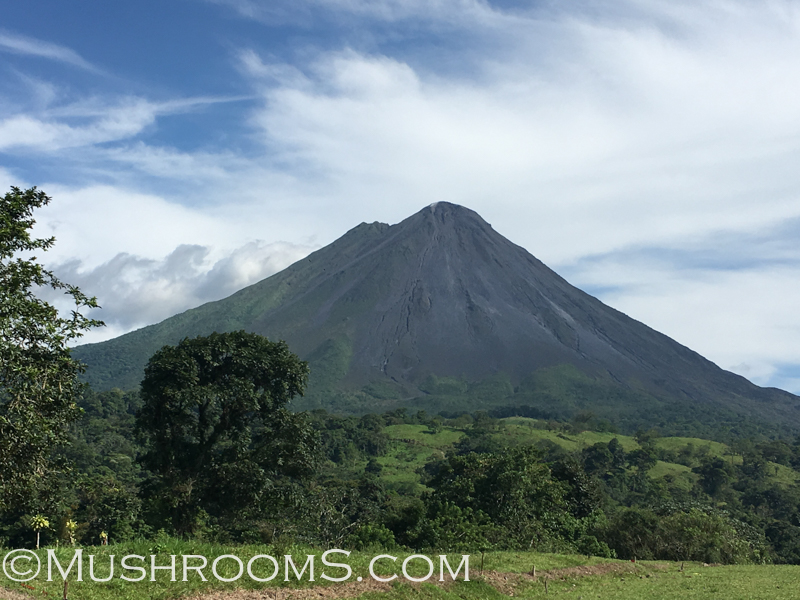 Spore Taxonomy
Cubensis Spore Taxonomy
Microscopic Features: Spores dark purplish brown to violet brown in deposit, subellipsoid, 11.5-17 by 8-11 u. Basidia 2- or 3-spores, but usually 4-spored. Pleurocystidia nearly pear shaped, sometimes mucronate, 18-30 by 6-13 u. Cheilocystidia fusoid-ventricose with an obtuse or subcapitate apex, sometimes sublageni form, 17-32 by 6-10 , with the narrow necks 3-5 u broad. One rare cubensis strains named Columbia "rust spore" actually drops almost reddish rust colored spores but this strain is very unique! We do carry spores of that strain from time to time.
Arenal Volcano Cubensis Spore PRINT
Product Code: Volcano PRINT
Availability:
Related Products
Tags: cubensis, sub/tropical mushrooms, warm weather mushrooms, mushrooms that grow on dung in nature, compost mushrooms, dark brown- purple spores, medicinal mushrooms, mushrooms for migraines, mushrooms for PTSD treatment, mushrooms for ADD treatment