Panaeolus (Copelandia) Spore Prints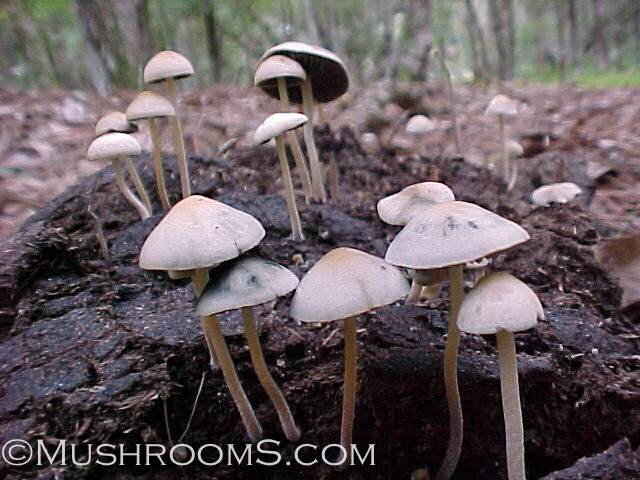 Panaeolus spores are from the genera panaeolus mushrooms and are very active mushrooms growing throughout most warmer regions of the world that get a decent amount of rain. The spores from panaeolus cyanescens, tropicalis,bisporus, and cambodginiensis are black. This mushroom is not a heavy spore depositor but we do our best to load up the syringes with tens of thousands of spores for your microscopic research. These mushrooms are also noted for being great at healing migraine headaches and usually within an hour of eating them.
In nature they grow on aged dung in grassy pastures of water buffalo, cattle and horses in tropical and subtropical climates. Although they have been reported in other climates as well. This species is spread through SE Asia subtropics, especially in Indonesia and Thailand. Panaeolus mushrooms are also spread throughout North America, and common throughout the Hawaiian Islands, Florida, and Mexico. As well panaeolus species are common throughout the caribbean islands. The panaeolus species also shows up in some books as copelandia instead of panaeolus name. This species is an excellent choice for ranches and farmlands as it's a quick dung decomposer. The fungi can break the dung down into rich composted soil, which feeds the grass that the livestock grazes on. The spores are deposited on the grass, which is then eaten by the livestock and deposited around the farm and fungi life cycle continues. Many ranchers have noted the dung smell is greatly reduced when this fungi is present on the land.
In some Asian countries, spores from panaeolus mushrooms are an ingredient in shark fin soup as an aphrodisiac. Shark fin soup is quite popular in China as a luxury item. As an avid scuba diver I do not agree with the de-finning of sharks. Their is no scientific evidence shark fins are an aphrodisiac. We can not attest to the spores actually being an aphrodisiac but the mushrooms themselves certainly are in our experience. The spores are merely a flavor enhancement in our opinion. Shark fin soup dates back to Ming Dynasty in China but it sure would be nice to see them replace the shark fins with mushrooms!
An interesting note about the spores and gills of panaeolus mushrooms. This species is known to have a spotted appearance on their gills just prior to being fully mature. This is caused by an uneven ripening of the spore-producing cells (called basidia) on the gill surface.
Microscopic Features: SPORES are blackish in deposit, smooth, lemon shaped, 11-16 by 7.5-11 µ.
Please note that panaeolus spores typically take about 10 days to germinate under a microscope. They also do not do good on MEA agar unless peptone is added. If you live in a country where it's legal to grow magic mushrooms and you would like to learn more how to grow this advanced species, check out Jakes panaeolus grow guide posted here.
Any questions regarding this class should be directed at the creator, not me. I am just the messenger spreading the word :)
Panaeolus spore prints in stock but not posted on mushrooms.com yet. Instructions how to order them below.
All of these spores are clean lab grows from Jakeoncid
Panaeolus Cyanescens Texas (Washington County) $24
Panaeolus Cyanescens Jalisco Mexico $24
To order any of these strain, use this custom order link.
https://www.mushrooms.com/custom-value
This is in $1 increments so add in the correct amount. If you buy 4 or more spore items total you can take 25% off. The cart normally auto calculates this discount however it will not do it with the custom order link.
Simply get your total then multiply by .75 and that will be the total after 25% off. Then check out and select your payment and shipping method. During this check out you will see a message box that says NOTES ABOUT YOUR ORDER. This is where you input which of these unlisted spore prints you want. :)
DISCLAIMER: Psilocybe mushroom spores are sold for legal microscopy purposes, food seasonings and artistic purposes. Pictures and information are for educational purposes.
---
Showing 1 to 8 of 8 (1 Pages)