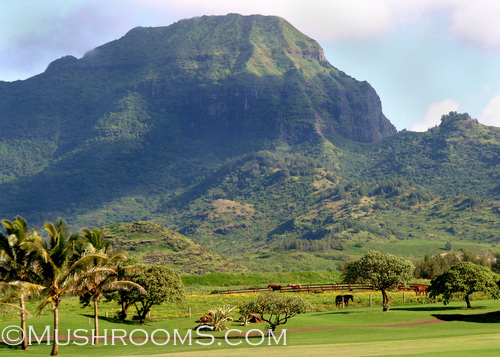 Copelandia mushrooms grow throughout the Hawaiian islands where there is plenty of rain and grassy cattle and horse pastures. Panaeolus Cyanescens mushrooms are the most common on the islands, but panaeolus cambodginiensis and panaeolus tropicals can also be found on the islands. Pretty much anywhere you can find grass pastures with cows or horses and moisture you have a great chance of finding these beautiful white mushrooms. This species of mushrooms grows directly out of aged dung. They thrive during the rainy seasons but in Hawaii that can be at different places of the island depending on the time of year. What a joy to find to find these beautiful medicinal mushrooms on such a beautiful tropical island. The panaeolus cyanescens are considered a prize mushroom by some because of healing abilities to heal migraine headaches.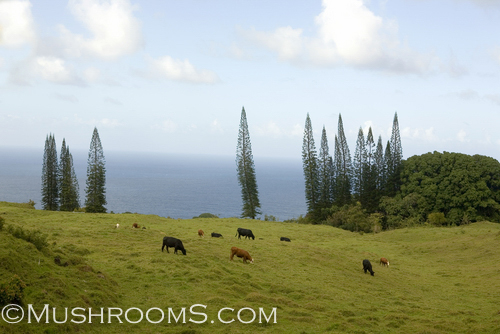 This particular strain of panaeolus cyanescens is from the Big Island of Hawaii. You will also see these mushrooms referred to as copelandia cyanescens. Copelandia is a term to refer to the tropical strains of the panaeolus genera.
A fun and educational book on this very subject is some of John Allen's stories after years of hunting these sacred mushrooms in Hawaii. His book Divine Mushrooms & Fungi goes into details about Hawaii's mushrooms as well as other psilocybe species. The island of Kauai is also thriving with Panaeolus Cyanescen mushrooms with so much rainfall and livestock and it's much easier to photograph mushrooms on this island since the ranch pastures are easily accessible.
For a very similar species check out the Panaeolus Tropicalis and Panaeolus Bisporus which we do have in stock.
Please note that panaeolus spores typically take about 10 days to germinate under a microscope. They also do not do good on MEA agar.
These are limited to 5 per customer
We have other Panaeolus species spore prints in stock but not posted on mushrooms.com yet. Instructions on how to order them below.
All of these spore PRINTS are clean lab grows from Jakeoncid
Panaeolus Cyanescens Alabama $24
Panaeolus Cyanescens Texas (Washington County) $24
Panaeolus Cyanescens Jalisco Mexico $24
Panaeolus Cambodginiensis Indonesia Komodo Dragon $29
Psilocybe Subtropicals $30
To order any of these strain, use this custom order link.
https://www.mushrooms.com/custom-value
This is in $1 increments so add in the correct amount. If you buy 4 or more spore items total you can take 25% off. The cart normally auto calculates this discount however it will not do it with the custom order link.
Simply get your total then multiply by .75 and that will be the total after 25% off. Then check out and select your payment and shipping method. During this check out you will see a message box that says NOTES ABOUT YOUR ORDER. This is where you input which of these unlisted spore prints you want. :)
Panaeolus Cyanescens Big Island Hawaii Spore Syringe
Product Code: Pan H
Availability:
Related Products
Tags: panaeolus, copelandia, medicinal, heals migraines